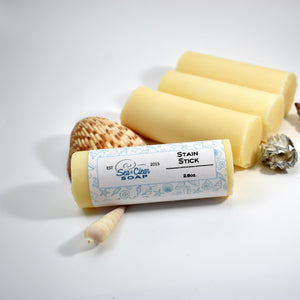 Stain Stick
Stain Stick
Sea and Clean all-natural stain remover effectively works to remove some of the most challenging stains that your family can create.  This stain stick has been tested on greasy food, pen marks, and ketchup and mustard from your picnic. 
Some stains do require 2 applications. 
Bring this with you on vacation or camping to hand wash clothes.  Just shave off a little piece and dissolve in water.  Swish your clothes and rinse.  
There are no harsh chemicals or synthetic ingredients.  

Since the stain stick is solid a small amount is used on each stain.  This stain stick will last a long time. 
To use:  Tear about 1/2" of paper off the end of the stick.  Wet the end and the stain area, rub the stick on the stain until suds form and stain is removed.  Launder as usual right away or later.
As with any cleaner, the products should be stored out of reach of children and pets.  Always test a new product in a small inconspicuous spot before cleaning the entire area.
Item Size
1 (one) Stain Stick, 2.6 oz. 
Due to the handmade nature the shape, weight and coloring may vary from picture.
Ingredients:
Coconut Oil, Water, Sodium Hydroxide
---
We Also Recommend